Events
---
13 Nov 2019
ACT Annual Dinner 2019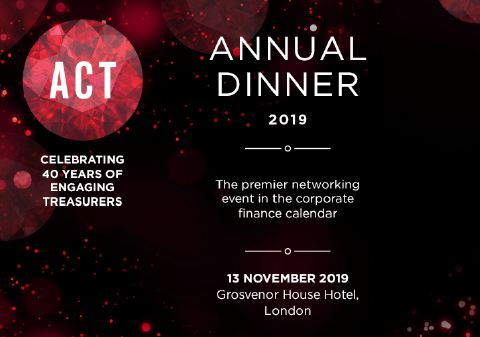 Taking place on 13 November in the elegant surroundings of the Grosvenor House Hotel, this year's ACT Annual Dinner will be extra special, as it takes place at the end of the ACT's 40th anniversary year.
View Event
14 Nov – 15 Nov 2019
DACT Treasury Fair 2019
Practice-oriented workshops and specialist presentations on trends and developments. Information on the latest solutions, products and techniques in your professional field. And plenty of room for interaction with colleagues and peers.
View Event
19 Nov – 20 Nov 2019
Journées de l'AFTE 2019
The 36th « Journées de l'AFTE » will take place on 19-20 November 2019 at Palais Brongniart in the centre of Paris. During these two days of plenary sessions and dedicated workshops, a unique line-up of experts will discuss all topical issues for corporate treasurers. It also represents an ideal opportunity to network with peers and to meet banks, fintechs and service providers.
View Event
Subscribe to the EACT Newsletter